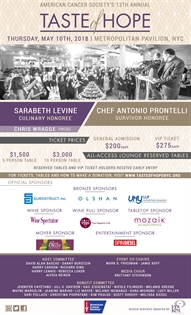 13th ANNUAL TASTE OF HOPE WILL HONOR CHEF ANTONIO PRONTELLI AND
CHEF SARABETH LEVINE ON MAY 10 AT METROPOLITAN PAVILION
Culinary Fundraiser for the American Cancer Society Offers Guests Unlimited Sampling from New York City's Hottest Restaurants
Celebrity Host Committee Includes Harry Lennix, Richard Kind, David Alan Basche, Alysia Reiner, Rebecca Luker, Danny Burstein, and Harry Carson
Actress Caroline Rhea Will Serve as Auctioneer and WCBS-TV's Chris Wragge Will Return as Master of Ceremonies
NEW YORK, NY (April 5, 2018) – The American Cancer Society will host the 13th annual Taste of Hope (tasteofhopenyc.org) on May 10 at New York's Metropolitan Pavilion. The signature culinary, wine and spirits event will honor Chef Antonio Prontelli, Executive Chef of Patina Restaurant Group's restaurants at Rockefeller Center and survivor of stage IV esophageal cancer, as Survivor Culinary Honoree; and Chef Sarabeth Levine, award-winning restaurateur, artisanal baker, jam maker, and cookbook author, as Culinary Honoree.
Funds raised from Taste of Hope will support the American Cancer Society's portfolio of research, programs and services that attack cancer from every angle. This includes the American Cancer Society Hope Lodge Jerome L. Greene Family Center, a free lodging facility located in the heart of Manhattan for cancer patients who are traveling far from home to pursue lifesaving treatment in New York City. Since its inception, Taste of Hope has raised more than $2.8 million to support the American Cancer Society's mission to save lives, celebrate lives, and lead the fight for a world without cancer.
Co-chaired by Mark D. Friedman (Halstead Property) and Jamie Koff (Fabric to Finish), this year's celebrity host committee includes actor Harry Lennix (Superman), Richard Kind, Harry Carson (formerly with the NY Giants), Drew Nieporent (Myriad Restaurant Group), Broadway stars Rebecca Luker and Danny Burstein, actor David Alan Basche, and actress Alysia Reiner (Orange is the New Black). Actress and comedian Caroline Rhea will serve as auctioneer and WCBS-TV's Chris Wragge will serve as emcee.
Taste of Hope provides over 800 guests the opportunity to enjoy unlimited tastings from more than 70 of New York's most popular restaurants, winemakers and spirits brands. Among those scheduled to participate are Brasserie 8.5, Calle Ocho, Dinosaur Bar-B-Que, Jim Fong, Magnolia Bakery, Melt Bakery, Mochidoki, Parker and Quinn, Rock Center Café, Serendipity 3, Speedy Romeo, The Sea Grill, Toloache, Treat House, and Zen Taco.
Attendees will also have the chance to bid on silent auction items donated by SoulCycle, Marc Jacobs, Kate Spade, Rebecca Minkoff, Tommy Bahama, New York Yankees, Bravo TV, The Dinex Group (Daniel Boulud) and Beauty + Essex.
Premium tickets to Taste of Hope are $275 each with early entry at 6pm. General admission
tickets are $200 each and with entry at 7pm through 10pm. Tickets are on sale
at tasteofhopenyc.org.
Corporate support for this year's event has been provided by Eurostruct, Mozaik, Olshan Frome
Wolosky LLP, UHY LLP, Vias Imports LTD, and Wine Spectator.
For more information about Taste of Hope, visit tasteofhopenyc.org.
Follow Taste of Hope on social media:
Twitter: @ACSTasteOfHope
Facebook @TasteOfHope
Instagram: @ACSTOHNYC
Hashtag: #TOH2018
About Chef Antonio Prontelli:
Born in the Bronx to Italian immigrants from Tuscany, Antonio Prontelli has always been
passionate about all things culinary. Prontelli received his degree from The Culinary Institute of
America in 1992, and began his career at Restaurant Associates' Mama Leone's, where he
created their signature pasta dishes. He then took a position at the American Festival Café, now
Rock Center Café, and quickly rose to Executive Chef. In 2014, Chef Prontelli became the
Executive Chef of Patina Restaurant Group's Rockefeller Center Complex, overseeing Rock
Center Café, The Sea Grill, and Cucina & Co.
Chef Prontelli was diagnosed with stage IV esophageal cancer in 2014. The cancer was
spreading quickly and he began intensive chemo and radiation treatment immediately. After
treatment, Chef Prontelli needed surgery to remove some cancerous lymph nodes from his
neck. By December 2015, his cancer was in remission. Chef Prontelli is an active contributor to
the Taste of Hope and Cycle for Survival. He also gives an annual lecture at the Culinary
Institute of America to students interested in culinary health services, speaking about serving
people with dietary requirements and restrictions due to health conditions, providing his unique
insight as both an accomplished chef and a cancer survivor.
About Chef Honoree Sarabeth Levine:
Sarabeth Levine is a multi–award winning restaurateur, artisanal baker and jam maker,
cookbook author and winner of the prestigious James Beard Foundation's "Outstanding Pastry
Chef of the Year" award in 1989. She is co-founder and partner, with her husband, Bill Levine, of
Sarabeth's Kitchen, Inc., the licensor of 21 Sarabeth's restaurants in the US and abroad.
Sarabeth created the award-winning "Sarabeth's" line of jams and preserves, which are sold
nationally in Sarabeth restaurants, gourmet shops, specialty stores, upscale supermarkets,
department stores, and hotels throughout the US and abroad. Her "Legendary Spreadable Fruit"
and bakery products are also sold at her restaurants, in her artisanal bakery at the Chelsea
Market, wholesale, and by mail order. She is President of Sarabeth's Bakery Ltd. and oversees
the production, sale and distribution of her bakery products and desserts to both wholesale and
retail channels. Sarabeth began her business in 1980 by making and selling her unique
200-year-old recipe for orange apricot marmalade at her apartment in New York City.
The author of two highly-acclaimed cookbooks, "Sarabeth's Bakery – From My Hands to Yours"
published in 2010 and the "Good Morning Cookbook", published in 2015, Sarabeth has appeared
on numerous television and radio shows, including ABC-TV, Food Network and QVC, and has
written for culinary magazines and trade journals.